Cadet and U15 Greco-Roman World Team Trials Recap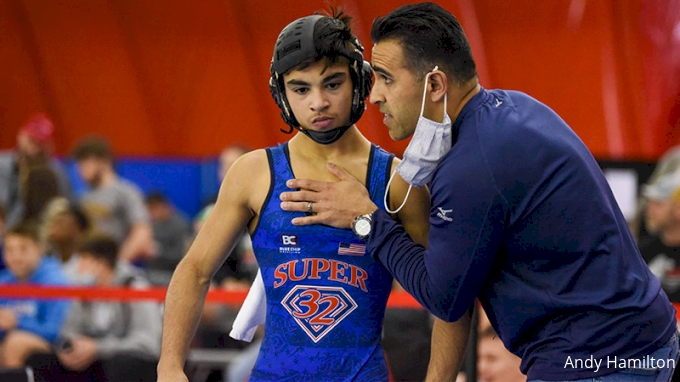 On an annual basis, the age group divisions experience significant turnover. Wrestlers advance both in years and in physical and technical ability, which by extension translates to looking different every time spring rolls around and we talk about World Team Selection.
On an annual basis, the age group divisions experience significant turnover. Wrestlers advance both in years and in physical and technical ability, which by extension translates to looking different every time spring rolls around and we talk about World Team Selection.
Last weekend in the Wisconsin Dells, change was history once again, but in a more dramatic sense. What else would you expect after a one-year postponement? Athletes with whom familiarity had been gained before were noticeably more viable. More hungry, even. On the other hand, there were so many new faces that it was hard to keep track of them all – but that's always a positive sign, especially when it comes to Greco-Roman.
In the end, the global team rosters were decided, and after a 12-month hiatus, the lion's share of entrants competed as if free fueled their motivation as much as winning.
Greco-Roman U15 World Team Trials Preview
Pins and dots – that's what people want to see, and U15 delivered the hooks top to bottom. Things tightened up once the best-of-three final came around, which in its own way offered encouragement from a development perspective. Athletes battling tooth and nail with team spots on the line showed they understood the seriousness of the situation.
Of course, not all final series involved tight scores; several weight categories were decided unilaterally. This also happened regularly. But even in these fights, competitiveness was never overlooked. Sometimes some wrestlers are just further along in their progression than others.
Pennsylvania, Illinois and Minnesota arrived locked and loaded as usual. For 2021, Idaho has taken a step forward with a pair of champions. At 48 kilograms, Matthew Martino searched for scores like a laser-guided missile en route to the title. He has a wrench. Martino showed patience and confidence on the ground, but he also did some clever work on the feet via arm drags and back and forth. A nice throw from the hip also made the show stopper.
Martino was challenged intermittently in the best of three by Thomas Verrette (PA). They went back and forth in Game 1 with Martino nailing a four-point clutch to the rim as time became a factor. Game 2 was… different. Verrette was penalized for the fingers, and later another warning put Martino ahead. With 10 seconds to go, Verrette rushed to the body and came with his head. Martino took the brunt of the impact and was victorious in the cautionary contest. It's not the way you want a series to reach its conclusion, but, you know… El Greco is an unpleasant sport.
The second heaviest Idahoan to earn a spot in the World School Combat Games is Hudson Rogers (68 kg). Rogers and Emil Necula (Level Up) have combined for one of the tensest series of the U15 tournament. They complemented each other stylistically. Game 1 saw Necula do a really good job with a gut that scored two rounds. Shortly after, Rogers fell behind and threw a superb side lift for four. The pitch changed the complexion of the fight, as Rogers eventually added three more for what became a 7-5 decision. In Game 2, Necula was close. Really close. He had a 4-4 standard lead with less than a minute to play when Rogers pulled him off the line for the deciding point.
Elsewhere
The 52 kilogram class featured an athlete who certainly made his mark in Wisconsin, Jackson Heslin (Poway Elite). Heslin was the picture of dominance throughout the day, racking up a combined 49 points. Against fellow Keystone Stater Brock Weiss, Heslin picked up technical wins of 8-0 and 10-0, respectively.
Even days later, people are still gushing over Vince Bouzakis' "Outstanding Wrestler" performance, and for good reason. The 57kg dynamo never pumped the brakes, doing all that is defined as "meaningful attempts". And more often than not, Bouzakis executed. He made it to the semi-finals, where Landon Robideau (PINnacle) fought well, and fought well. In fact, Robideau appeared within a few positions of completely taking over. But Bouzakis remained firm until the end by obtaining a place in the final round.
With a trip to the world tournament on the line, Bouzakis was at his best. Phoenix Contos (OH) started Game 1 with a solid header for four but were unable to fully capitalize as Bouzakis immediately rolled before converting a succession of guts. Bouzakis then stacked even more to retreat out of reach via 14-5 technology. Game 2 didn't cause much consternation for Bouzakis. A four dot in the first followed by a gut – then after a reset, a withdrawal – was all she wrote.
Cadet Greco-Roman World Team Trials Preview
U15, in what is really only Year 2 for the age split, was expected to experience massive turnover. Naturally. The Cadet Division saw the same change in personnel, although several members of other global teams helped create a sense of familiarity.
There was only one repeater – Cory Land (Ironclad). Up to a full 19 kilograms (48 to 55), Land was lively and attacking throughout his travels. He technically has everyone except Gable Porter (Powerhouse WC), who got his own scores in Game 2 after Land took the win in Game 1 with an 8-0 VSU.
For as many sprites were stars at U15, Cadet had even more, and one of the youngsters who stood out was 60-year-old Brock Bobzien. Few eventual champions have encountered the same field of competition as Bobzien, and only two others were as in control. throughout the tournament. His fight against Elijah Paulson (PINnacle) gave way to a solid fight, but Paulson was his only legitimate threat on Friday. The best of three offered a very tough opponent in the form of Ayson Rice (LOG), and Bobzien ran the board in two straight to ensure he would have the chance to compete for a world medal in July.
Three wrestlers with ties to the '19 U15 roster had their say.
'19 U15 rep Aden Valencia (Greco-Roman Development) emerged with the crown at 48 kilograms pushing the pace all day. He still had enough steam available by the time the finals arrived. Otto Black (Black Fox) was also impressive, which you have to understand. The problem for Black was simply that Valencia had too much positional knowledge and a serious repertoire of scoring options to choose from. Valencia won both fights in the final by technical fall.
65 kilograms offered a marquee duet in the final. 2019 U15 World Gold Medalist Jadon Skellenger (Suples) and 2019 Bronze Medalist Joel Adams (MWC) were equally stunning as they fought their way to the World Team Round respectively. Skellenger, long under the tutelage of Ivan Ivanov, was forced to bite in Game 1 when Adams took to the board with a busting over/under bodylock. Skellenger responded quickly after the score. First, he reversed his position and completed three rounds before adding another pair of points. In the second period, and with Adams throwing another over/under throw, Skellenger shrewdly thought about the positional mechanics and clung to the entertaining 11-8 decision.
Their second lap of the day skewed in Skellenger's direction early on and the dynamic didn't change. Two out points in the opening frame were the only hints of offense going into the second period. But Skellenger, he can make his way to the scores quickly, which he demonstrated by going from an arm spin attempt to a takedown that was interrupted by two follow-up guts. Named the "outstanding wrestler" on the cadet side, Skellenger will be an athlete to watch once the world championships are on the schedule later this summer.