Former WWE Writer Thought The Big Show Killed A Young Wrestler On WWE Raw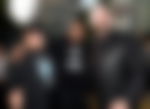 Anyone watching professional wrestling for the first time will wonder how individuals take smashes, drops, and punches. In fact, when Freddie Prinzr Jr. joined WWE as a writer, he saw The Big Show smash a local through a table. He thought the former WWE Superstar killed someone.
ADVERTISING
The article continues below this ad
During his session with Paul Wight (Big Show) on Wrestling with Freddie, the former WWE writer detailed the experience of watching Wight smash a local through a table.
"I remember saying on the microphone, oh, shit. And it looked like he was dead. I was new to the business. Ok, so I was like, I was like, 'Oh my God' and in my head I'm like, he said, he was going to protect this man and the man is, he's dead. They drag the guy backstage"
ADVERTISING
The article continues below this ad
"I get up wWhen he comes back, I run to him. I was like, 'Oh, my God, man. Are you OK? Are you fine?' And he's like, 'Yeah, I'm fine. I'm fine, man. I was like what? No, you are good. And he's like, Yeah, good. And I turn around, and Vince is laughing at me, isn't he? Like, I'm just a complete rookie, moron. H/t Fight with Freddie
DIVE DEEPER
This happened a month after Freddie started with the company. He wasn't quite aware of how Superstars worked and the technical details of the ring!
Watch this story: Brock Lesnar to John Cena: Highest-Paid WWE Superstars in Early 2022
Freddie Prinze Jr. frustrated The Big Show with his WWE writing
When Prinze Jr. joined the company, he didn't know which Superstar was most comfortable with what. Consequently, he ended up writing a four-page segment for The Big Show. This was during a time when Big Show hadn't spoken much on Raw in months.
ADVERTISING
The article continues below this ad
When the former superstar realized he had to remember a lot, he burst into the writers room and demanded to know who wrote the segment. Upon learning that it was a newcomer, he calmed down.
During the session, Paul Wight revealed that he thought it was one of the other writers trying to chop his head off. Therefore, when he realized that Freddie Prinze Jr. wouldn't do that by just joining the company.
ADVERTISING
The article continues below this ad
DIVE DEEPER
The duo worked together to shorten the segment and make it cleaner and easier to remember for Big Show!