Graeco-Roman Summary by Matteo Pellicone USA 2020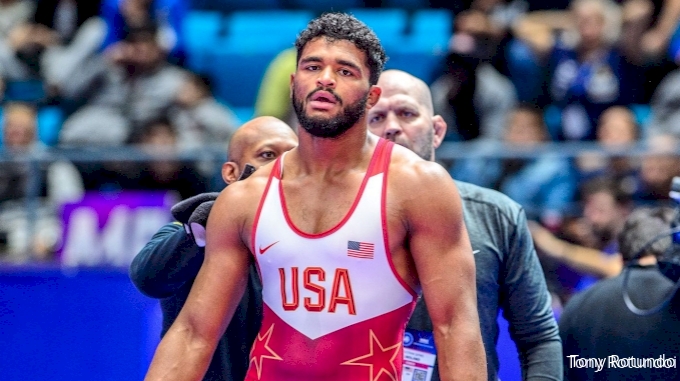 It may still be fresh in your mind not to operate with a large amount of presumption.
Before Matteo Pellicone started this week in Rome, the premise was easy to understand. Since the tournament, United World Wrestling's first this year in its "ranking series", which brought the prospect of athletes earning flanking points that could determine seeding at the continental Olympic qualifiers, the United States has been an enthusiastic participant. With all six Olympic weight classes still requiring qualification for the U.S. program – and Cuba staying home – it was only natural that an on and off Star-Spangled presence would be available in Rome to try and get a head start before the critical hour in March.
So how did it go ?
For one thing, only two American athletes who will be tasked with qualifying their respective weights have earned said coveted points.
At 97 kilograms, G'Angelo Hancock came away with 14 points which was the result of a bronze medal that featured a quick and one-sided defeat of two-time U23 world champion Semyon Novikov (UKR). Hancock is used to performing well in ranking events. Due to his success last season on the circuit, he acquired a #3, and then after Worlds, a #2 ranking designation by UWW. When the top 20 resets, it will once again enjoy a high spot on the list.
Adam Coon (130kg) – of that most memorable run to world silver of 2018 – pulled away from Pellicone with 10 points via his fifth-place finish. Coon's performance had potentially direct implications. He lost his first fight against Moises Hellburg Perez of Venezuela. It was important, because, well, Venezuela. Perez is suitably problematic for a heavyweight and placed second at the Pan Am Games last August. Still, Coon was in the driver's seat in the second period until a four-pointer from Perez resulted in a tough decision loss. That Perez ended up with the money, and therefore more ranking points, was obviously not the ideal outcome.
After his loss to Perez, Coon took down a very good Tuomas Lahti (FIN) for a bronze chance where he then fell to Lingzhe Meng (CHN), a wrestler Coon defeated midway through his run to the world silver – and lost in the qualifying round at Worlds in September.
Joe Rau (87kg) drew multiple medalist Viktor Lorincz (HUN) in the first round and succumbed to a pair of gutwrenches and a takedown, all in the first half, and lost 7-0. A rebound victory over Junje Na (CHN) gave confidence, but then Ali Cengiz beat Rau for bronze. The Chicagoan still scored 10 ranking points, though that likely offered little consolation.
In the same weight class, Patrick Martinez went 1-2 and also fought for bronze. It was an interesting storyline, because in that bronze round, Martinez faced Pan American stud Luis Avendano Rojas (VEN). A win there for Martinez – let alone a win for Rau in the other bronze medal game – would have been a great win for the United States given the stakes at stake in March qualifying. But unfortunately for Martinez and the United States, Avendano prevailed 4-1.
In October, Ildar Hafizov (60kg) beat 2018 world bronze Sailike Walihan (CHN) before placing third at the Military World Games. It was an impressive victory. Luckily (or not), Hafizov drew Walihan first on Wednesday and was drilled 9-1. Hafizov was brought back into the repechage when Walihan qualified for the final, and was edged out by the other 60-kilo Chinese contender, the compact and explosive Erbatu Tuo.
Finally, there was Patrick Smith on Thursday, the last of the Olympic weight masters who will try to end the stress in Ottawa. Who did Smith fire in the Round of 16? None other than RaVaughn Perkins, one of his main national opponents. Perkins won 4-0, but lost in the quarters to eventual champion Zoltan Levai (HUN), which dashed Smith's hopes of picking up a few points in the repechage.
Elsewhere for the USA
The regularity of Max Nowry (55 kg) abroad should attract attention. Nowry took silver with two impressive victories, including a shot win over Serif Kilic (TUR) in his third match. Other than a setback against champion Dogus Ayaczi (TUR, and which Nowry pinned in August), it was yet another solid performance in what has been a streak of them dating back to early last year.
Perkins doesn't need to lower his head after going 2-2. American fans (and coaches and fellow athletes) would have preferred that he and Smith could avoid another meeting overseas, but none of that is as important as health. Perkins, who finished fifth, took part in every game and was able to come out unscathed in time for what is sure to be a tough training camp in Denmark.
Kamal Bey (77kg) has struggled with just a little more patience lately, and it's creating more momentum for his arsenal of big moves. Against the experienced Nurbek Kashimbekov (UKR), Bey charged into the deuces to unleash a headlock bomb that eventually set the tone for a 14-5 tech. A wobbly bout with Venezuela's Wuileixis Rivas Espinosa cut Bey's tournament short (Perkins also lost to Rivas for bronze), but as a test event of sorts, Pellicone hit the mark for Bey and the others preparing for the tests. .
John Stefanowicz (82kg) wasted no time gutting Bin Hong Lin (TPE), but a semi-final loss to Sing Gurpeet (IND) which included a few conferences from officials disrupted his momentum. Gurpeet brought Stefanowicz back into the repechage where a showdown with Germany's Florian Neumaier awaited him. Neumaier is tough, disciplined – but also not much for a true foot attack. This meant a passive affair and one that did not go the way of the Navy.
World Team member Ray Bunker (72kg) gave up a hit to Maksym Yevtushenko (UKR), a four-pointer in the second half, and sometimes that's all it takes. Bunker pressured Yevtushenko throughout, but to the Ukrainian's credit, he actually went one-on-one more than most opponents. Bunker will likely have another appearance at 72kg when the Armed Forces Championships arrive next month, then he'll be (back) at 67 for the big show in April.
67 kilograms for the United States offered three athletes: Marine national team members Jamel Johnson and Xavier Johnson (no relation) and the big senior overseas debut of national runner-up Calvin Germinaro. X. Johnson and Germinaro lost in their only fights against Quiye Tian (CHN) and Jamel Johnson was defeated by Anthony Palencia Puentes (VEN) 5-1.
In addition to the Marine Corps athletes, the US delegation will then travel to Denmark. This weekend is Thor Masters 2020 at Nykobing Falster where a separate contingent of Americans are competing. Then, starting Monday, a huge joint international training camp will feature more than 150 athletes.