Greco-Roman scenarios to watch at US Open 2018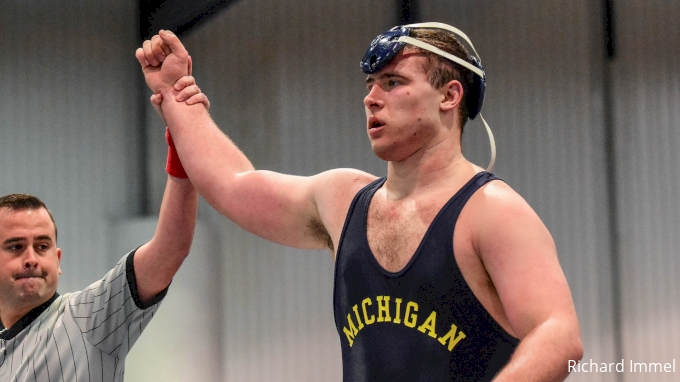 This Thursday and Friday will be the 2018 US Open in Greco-Roman, setting the stage for the World Team Trials in June. The 10-weight champions will compete in the best of three WTT finals, giving the winners a huge advantage to be the guy who fights in Budapest in October at the world championships.
The Return of Adam Coon
The last time Coon wrestled at the senior level was at the 2016 Olympic Team Trials. There he lost 4-1, 7-2 to Robby Smith, who held the Greco heavyweight spot five years in a row. Coon will do both styles in Vegas, and Greco goes first. The finals take place Thursday, April 26, and then the finals take place Friday night at 7 p.m. Pacific.
Greco is a radically different animal for Coon than folkstyle, as his opponents can't step outside the bounds of his hook. The 2014 World Junior bronze medalist is almost always the biggest guy in every game he fights and can physically overwhelm anyone he faces.
77kg: Kamal Bey vs. Jesse Porter
Unquestionably Greco's best rivalry at the moment. Their Bill Farrell finale last month had one of the craziest first minutes you've ever seen. Bey was expected to win the Schultz final in February 2017 with an absurd four-pointer in the last minute, and these two also met at Farrell 2016. The best part about these matches is that Porter always gets a big hit, and he there is some kind of crucial controversy or unrest. This is not a rivalry decided by passive points.
Kendrick Sanders and Jon Jay Chavez once again stand in the way of this game. This will probably be the best installment of the weekend.
Will America be too scattered?
Particularly at the lower weights, Team USA will struggle for depth. Looking at last year's national team members at 59kg, they are now split across three weights. Max Nowry weighs 55 kg, Ildar Hafizov weighs 60 kg and Hayden Tuma weighs 63 kg. Going back to the 2016 Olympic trials and the first three senior national championships in 2015 at 59kg, Spenser Mango and Jermaine Hodge are retired, and Thielke is at 63kg.
Benefit most athletes at 59kg is 63kg, where Sammy Jones, Ryan Mango and Xavier Johnson still live, but Taylor LaMont and Dalton Roberts are at 60kg, and Randon Miranda is the favorite at 55kg. Not ideal for a country that has just had its worst performance at the world championships in years. It could take even longer now to build the kind of depth America needs to compete for medals again.
87kg: Joe Rau vs. Ben Provisor
After a long injury absence, Rau appears to be in the best shape of his life; Provisor had a similar experience after some earlier issues years ago. Even though there were only two matches, their series was one of the best of last year. Hopefully they relaunch it to decide who gets the bye to the Trials final.