Iranian Hassan Yazdani named vice-champion in freestyle wrestling at Tokyo 2020 Olympic Games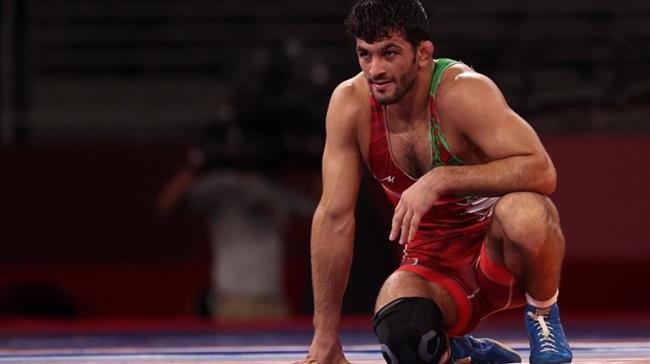 Iranian freestyle wrestler Hassan Yazdani Charati made impressive displays of wrestling skills at the Tokyo 2020 Summer Olympics in Japan, but was defeated by his tough rival in the final bout and finished second in the event. respected international sportsman.
Yazdani – the 26-year-old champion of the Rio 2016 Summer Olympics – won a silver medal after David Morris Taylor III of the United States beat him 4-3 in the final meeting of the category of male weight 86 kilograms at Makuhari Messe Hall on Thursday.
The Iranian wrestler had launched his campaign resolutely the day before, and beat Uzbekistan Javrail Shapiev 11-2 in the first competition, before beating Switzerland's Stefan Reichmuth 12-2 in the quarter-finals.
Yazdani emerged victorious from Russian wrestler Artur Naifonov 7-1 in the semifinals and advanced to the final.
Iranian Mohammad Reza Geraei triumphed over Ukrainian rival Parviz Nasibov 9-1 in the final round of the 67-kilogram division on Wednesday and won the gold medal.
He had previously beaten German opponent Frank Stäbler and Georgian contender Ramaz Zoidze to make their way to the final encounter.
The Tokyo Olympics officially kicked off on July 23 and will last until August 8. Some preliminary events started on July 21.
The games see karate, sport climbing, surfing and skateboarding make their Olympic debuts.
Originally scheduled for July 24 to August 9, 2020, the event was postponed to March of last year due to the COVID-19 pandemic.
Much of it now takes place behind closed doors, with no public spectators allowed under the state of emergency.
Iranian athletes have so far won five medals – two gold, two silver and one bronze – placing the Islamic Republic in 27th place in the medal rankings.
China leads the medal table with 73 medals (including 33 gold), the United States is second with 88 medals and Japan third with a total of 44 medals.
Australia, the Russian Olympic Committee (ROC), Great Britain, Germany, Italy, the Netherlands and New Zealand are respectively in 4th and 10th place.