The best Greco-Roman matches of the JR and U23 national championships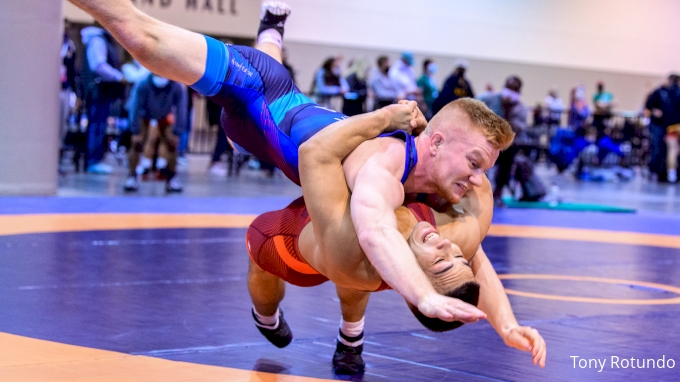 Greco only had one day to make an impression in Omaha, which meant cramming a lot of games — and a lot of big moments — into a compressed time frame. A large number of hardened full-timers and well-rounded folkstylers who decided to enter the fray ensured that both age groups would not go unnoticed in the classic discipline, even with a brutal workload.
Complete USA Wrestling Junior & U23 Nationals Results
Brackets, team scores and more in FloArena
What did we see? We've seen several high-profile seniors hit the town for their money's worth, and sure enough, a few have ended up with titles. At Junior, the story mostly belonged to competitors of all styles that most were already familiar with, though that didn't take the shine out of their sparkling performances. After all, it's always nice to see their great work.
Omaha didn't feel like Akron. It wasn't supposed to. It was a different deal, with different circumstances and uncommon matches. This is partly what made
Friday so exciting, especially when it came to the final round.
Top 10 finals
10. George Hooker (UA) defeated. Michael Loyola (UA) 6-2 — 97kg, U23 final
(MATCH LINK)
Hooker's advantage in senior experience played a big part in securing his first national title and it came in very handy against a game from Loyola, who had scored a pin on Brady Vogel (UA) to qualify for the final. The bulk of Hooker's score (that's five of his six points) came in the first period and was put to good use with a nasty side uplift.
9. Dylan Gregerson (UVRTC) def. Erik Spence (NMU/NTS) 9-0, TF — 63kg, U23 Final
Gregerson, the 2019 U23 Trials runner-up, didn't need too much time to pass Spence – who also deserves a nod for a strong all-around performance on Friday. But Gregerson is locked in these days and, like most, was chomping at the bit to compete. He showed it against Spence, punctuating his untouchable day by launching a rocket five before closing with a turn.
8. Chayse LaJoie (Spartan) def. David Stepanian (NYAC/NTS) 10-2, TF — 60kg, JR Final
(LINK MATCH)
When you do it at Fargo, everyone thinks you can do it anywhere. That's not always true, especially when it comes to facing a starter who has evolved as quickly as Stepanian. LaJoie apparently did not receive this memo. Instead, he simply threw a forward headlock sending a message from the ground that instantly changed the complexion of the game. Stepanian never stopped working, which makes LaJoie's intense efforts in the second period all the more impressive.
7. Taylor LaMont (Sunkist/UVRTC, 5 p.m. #8) beat. Randon Miranda (NYAC/CYC, 5 p.m. #10) 3-1 — 60kg, U23 Final
(LINK MATCH)
They've done it before, they'll do it again, and no matter how many times you watch them face off, LaMont and Miranda will never let you down. This top-tier senior duo know each other's tactics and positions so well that you can almost see their brains working as much as their bodies right there on the mat. In this case, what you got was a strategic matchup war that could produce more than enough video for an online clinic. It was LaMont who got the win with a passive key in the second period, and that was all it took. Still, if you're looking for hardcore Greco moves and setups, this fight is not to be missed.
6. Jesse Porter (NYAC/NTS, 5 p.m. #14) def. Tyler Dow (Wisconsin RTC) 10-1, TF — 77kg, U23 Final
Porter – now the winner of the four U23 events the United States has had to offer – decided Dow in the consolation bracket at the '19 Senior Open 4-0. It's doubtful it stuck in his head, as if he wanted to make sure he'd drop a whole lot more on Dow if they met again. At the same time, it is quite possible. Dow held on in the first period and even made enough of an impression on the officials to come away with the passive luck. Yet that was it. Because after the restart, Porter came alive with a four-point header and then snagged another six points on the board in the second frame to put the finishing touches on another masterful performance.
5. Zach Grimes (UA) def. Calvin Germinaro (Minnesota Storm, 5 p.m. #8) via fall — 72 kg, U23 final
(LINK MATCH)
One of the best stories of the U23 tournament was Grimes, whose momentum accelerated following his semi-final win over Riley Briggs (NMU/NTS). His opponent in the final, two-time senior national runner-up Germinaro, thought he had the pieces in place to move forward and find a way to somehow come away with a win, somehow. of another. But not so fast. Germinaro was certainly willing to open up – and Grimes was also determined to make Germinaro pay for it. Showing good power, quick instincts and a knack for adapting on the fly, Grimes' all-out wrestling ability resulted in a dramatic pin that few would have predicted.
4. Justin McCunn (Viking WC) def. Jack Ervien (UA) 16-7, TF — 77 kg, Final JR
(LINK MATCH)
It takes extra speed to take down a recent World Team member, especially when you're not known as "Mr. Greco" yourself for now. Ervien's defeat by McCunn demonstrated why a wrestler who always tries to score – at all costs, regardless of the situation – has a place in this discipline if he wants one. Ervien brought as much fighting to the party as McCunn, and even owned a 7-3 lead going into the second. Then suddenly McCunn caught fire and couldn't be stopped as he racked up an unanswered 13 points to seal the deal.
3. Conor Knopick (MWC) def. Billy Sullivan (LOG) 12-5 — 55 kg, JR Final
(LINK MATCH)
Corners. Speed. Flow. Links and attempts that actually mean something. Lightweight guys sure know how to put on a show, and in the JR 55-pound final, that's exactly what Knopick and Sullivan did. Two wrestlers with relevant experience and similar trajectories — Knopick, a Cadet World Teamer last year while Sullivan stormed Fargo — are used to bringing the best out of each other. That's what happened here. Sullivan featured a clean side lift to run in front, and also rolled out some brilliant attempts that kept Knopick honest. But in the end, it was Iowa State-bound Knopick who had more answers that day, as well as a knockout that will continue to serve him well down the road.
2. Jack Darrah (Xtreme) def. Tyler Hannah (Dubuque WC) 4-3 — 87 kg, JR Final
(LINK MATCH)
A biting end that put the legitimate Grecos on the edge of their seats. What else should you expect with a pair of top-tier topweight prospects? Pan Am Cadet Darrah and 2019 World Cadet Team member Hannah weren't kidding and seemed to have a very clear understanding of how they wanted this fight to go. So it must have been laborious. It had to have its own definitive, deliberate rhythm where a single wrong decision could lead to devastation. Both are too good to slip on banana peels out of nowhere, which is why this one fell to the wire with Hannah nearly getting a last-second win and Darrah grabbing defensively.
1. Payton Jacobson (Ringers) def. Logan Hatch (EAP) 5-3 — 63 kg, JR Final
It could have gone either way. No other Junior Division Finals offered the same brand of authentic Greco-Roman as Jacobson/Hatch. The bare-knuckle combat, the footwork, the give-and-takes, and the focus on the driving position of the legs — were all heads and shoulders above the field. Explosive throws and smooth arm spins are key to getting fans into the stands and in front of their screens. But for those who want to nab a front row spot for what it actually takes wrestlers to even get those attempts, a match like this is all you need to watch.
---
Top 5 special mentions
One of the best things Greco has to offer, especially in the age group, is that you're guaranteed to catch plenty of high-flying techniques and thunderous throws. Action counts (in terms of development, even more than victories).
Finally, we have a mix of fights that highlight this very concept. A handful of wrestlers highlighted below might not be closely associated with Greco-Roman competition, although that is kind of the point of it all. Watch what they can do when given the chance. But for good measure, there are several accomplished Greco athletes whose methodologies and dynamics still demanded attention.
"Slyter the Side-Riser"
Keegan Slyter (UA) defeated. Caleb Gross (Jackrabbit WC) 16-16 — 60kg, JR Quarter-final
(LINK MATCH)
Gross brought the heat and wielded shrewd scoring ability, but it was Slyter's burgeoning trio of lateral comebacks, including a four-point clutch late in the second period, that helped turn the one into an instant classic.
---
"Okay guys, calm down for a second."
Dane Harter (UA) defeated. Zion Carpenter (Cougar WC) 18-16 — 82 kg, JR Quarter-final
(LINK MATCH)
A high-scoring match at a lightweight division is one thing, but when it happens at a higher weight, you tend to open your eyes a little more. And speaking of "open," that's exactly what Harter/Carpenter was. Throws, takedowns, scrambles… You might get tired just looking at the thing, but it's definitely worth watching.
---
"Wait for it…"
Nolan Baker (NYAC, 5 p.m. #7) def. Duncan Nelson (NMU/NTS) by drop — 67kg, U23 Quarter-final
It was a quarter-final that meant something. Two athletes from Illinois, both young, both talented, although Baker is the more established of the pair. And, we know why. Baker has a killswitch headlock that doesn't just change matches, it ends them. Nelson knew the strength of his opponent and, like many before him, still couldn't stop him.
---
"Bodylock City"
Billy Sullivan (LOG) defeated. Jacob Cochran (NMU/NTS) 16-6, TF — 55kg, JR Semi-Final
(LINK MATCH)
Cochran was in this match most of the way and made Sullivan work virtually every time they made contact. The first period alone showed why Cochran could eventually become a real threat. He knows how to fight. The problem here? Sullivan's technique – especially when it came to creating clearings in the body – was just too much to handle. For a nervous featherweight, Sullivan knows how to display some power.
---
"Until They Find Each Other"
Benji Peak (Sunkist/NTS) defeated. Lenny Merkin (NYAC) 8-5 — 67kg, U23 Semi-Final
(LINK MATCH)
Peak's main motivation for entering both brackets of 67 on Friday was to be able to have a chance to face Merkin in U23. The two wrestlers are considered the top contenders for the last chance Olympic qualifier in March – and they hadn't faced each other until Friday. Naturally, it was something a lot of people wanted to see. Their first round did not disappoint and it was Peak who emerged victorious thanks to a takedown and a turn late in the second period.
---
Follow Tim Hands on Twitter and experience the country's best Greco-Roman wrestling coverage on 5 point movement.