US Open seeds are out for the Greco-Roman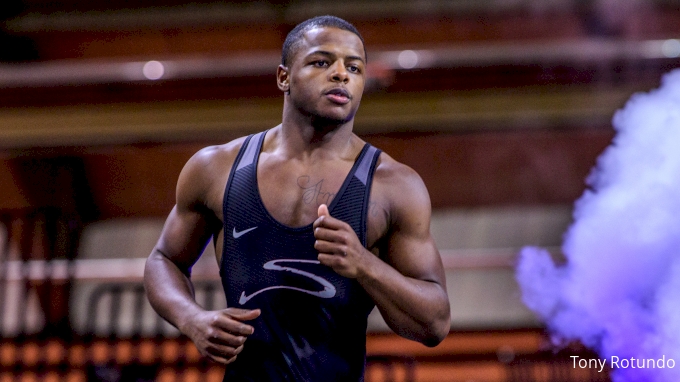 The senior Greco-Roman level seeds have been determined for this week's US Open, which runs April 27-May 1 in Las Vegas. The No. 1 seeds for this weekend are Max Nowry (55 kg), Dalton Roberts (60 kg), Jesse Thielke (63 kg), Peyton Omania (67 kg), Benji Peak (72 kg), Kamal Bey (77 kg), Spencer Woods (82 kg), Alan Vera (87 kg), Lucas Sheridan (97 kg) and Cohlton Schultz (130 kg).
April 27-May 1, 5:00 PM UTC
USMC 2022 US Open Wrestling Championships
The men's freestyle and women's freestyle ranking meetings took place earlier today.
FS SEEDS FOR MEN
FS SEEDS FOR WOMEN
Below are the seeds as determined at Monday's Coaches Ranking Meeting:
55 kilograms
1. Max Nowry (WCAP Army)
2. Dalton Duffield (WCAP Army)
3. Jacob Cochran (Northern Michigan)
4. Camden Russell (MWC)
60 kilograms
1. Dalton Roberts (WCAP Army)
2. Ildar Hafizov (WCAP Army)
3. Dylan Koontz (Titan Mercury WC)
4. Alex Thomsen (WTC of Nebraska)
63 kilograms
1. Jesse Thielke (WCAP Army)
2. Corbin Nirschl (MWC)
3. Aidan Nutter (NYAC)
4. King Sandoval (WC Bandits)
67 kilograms
1. Peyton Omania (Michigan RTC/NYAC)
2. Alejandro Sancho (WCAP Army)
3. Alston Nutter (Sunkist Kids)
4. Lenny Merkin (Princeton WC)
5. Jamel Johnson (Navy)
6. Robert Perez III (Sunkist Kids)
7. Jessy Williams (Spartan Combat RTC)
8. Morgan Flaharty (NYAC)
72kg
1. Benji Peak (Sunkist Kids)
2. Orlando Ponce (Minnesota Storm)
3. Michael Hooker (WCAP Army)
4. Joe Betterman (Elite Betterman)
5. Eddie Smith (WC Pickaxe)
77 kilograms
1. Kamal Bey (WCAP Army)
2. Britton Holmes (WCAP Army)
3. Payton Jacobson (Sunkist Kids)
4. Alec Ortiz (Minnesota Storm)
5. Fritz Schierl (Titan Mercury WC)
6. Riley Briggs (West Coast Greco RTC)
82 kilograms
1. Spencer Woods (WCAP Army)
2. Tommy Brackett (Tennessee)
3. Tyler Cunningham (CMM)
4. Ryan Epps (Minnesota Storm)
5. Jordan Lara (505 WC)
6. Jake Fisher (Curby-style toilet)
87 kilograms
1. Alan Vera (NYAC)
2. George Sikes (NYAC)
3. Christian DuLaney (Minnesota Storm)
4. Timothy Young (Illinois)
97 kilograms
1. Lucas Sheridan (WCAP Army)
2. Khymba Johnson (NYAC)
3. Chad Porter (Sunkist Kids)
4. Guy Patron (Dubuque WC)
5. Christian Rouleau (Minnesota Storm)
130 kilograms
1. Cohlton Schultz (CdM Sunkist Kids)
2. West Cathcart (NYAC)
3. Courtney Freeman (Marines)
4. Keaton Fanning (Northern Michigan)
5. Kaleb Reeves (Eastern Iowa WC)
6. David Tate Orndorff (Titan Mercury WC)