Who is Babita Phogat? Know India's Champion Wrestler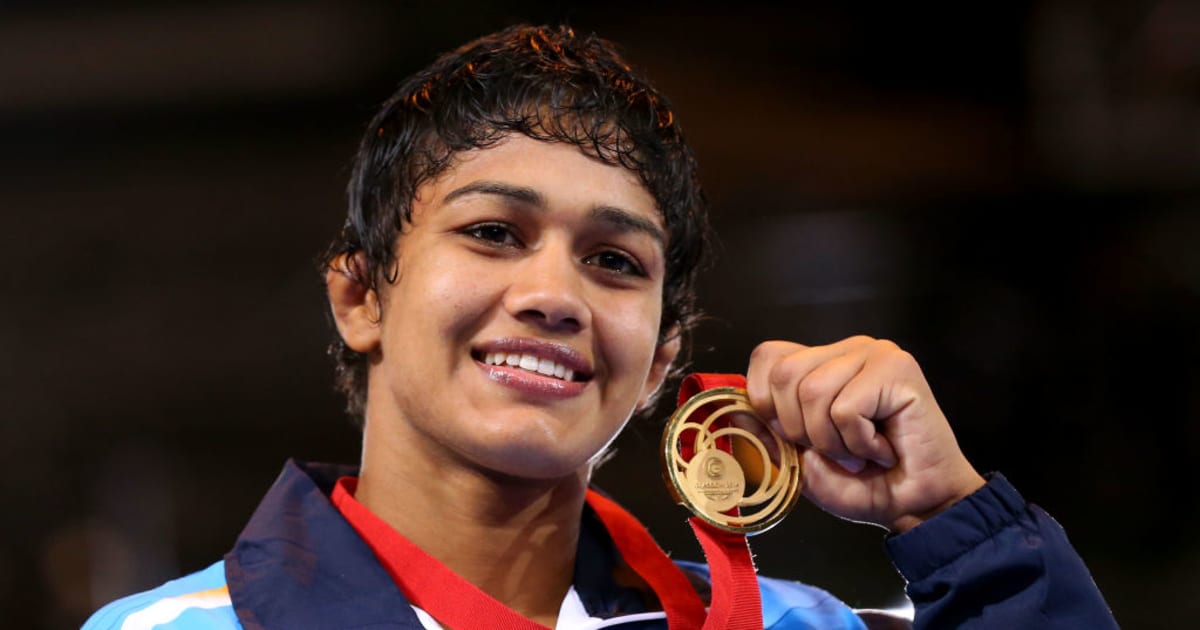 Babita Phogat is the second oldest member of the famous Phogat Sisters. Although the eldest Geeta Phogat was the first female wrestler to rise to fame with a gold medal at the 2010 Commonwealth Games, Babita Phogat was not far off either.
Babita Phogat won a silver medal at the 2010 Commonwealth Games and a bronze medal at the world wrestling championships two years later.
Just like Geeta Phogat, Babita also won a gold medal at the Commonwealth Games in 2014. She also represented India at the Rio 2016 Olympics.
Babita won a silver medal at the 2018 Commonwealth Games and joined India's elite athlete club with three CWG medals to his name.
It was a fitting reward for Babita Phogat, who attributes his success to his coach and father Mahavir Singh Phogat.
The 2016 Bollywood film starring Aamir Khan Dangal further immortalized Geeta and Babita and made them posters in India for overcoming obstacles and changing perceptions.
"The hostility towards us was much worse than what is shown in the film, but my father gave us inner confidence," Babita said. The Guardian. "He taught us, as young girls, never to be afraid.
"We were two teenage girls who, by custom, should have been draped in baggy clothes to hide our curves, but instead we were running around the wheat fields in shorts and lycra tops and cropped hair," added Babita.
Where is Babita Phogat from?
Babita Phogat was born on November 20, 1989 in Bhiwani, Haryana. Her father Mahavir Singh Phogat was an Indian amateur wrestler and trainer who trained his daughters to become world beaters.
Babita has three siblings. Besides Geeta, Babita has two younger sisters, Ritu and Sangeeta. Priyanka and Vinesh Phogat are Babita's cousins ​​but were raised by Mahavir Singh Phogat after their father died when they were young.
Babita started training at a very young age. Due to the lack of girls practicing the male-dominated combat sport in her locality, Babita traveled to nearby akharas (mud pits) with his father and sister and wrestled mostly with boys.
Being a year younger than Geeta, Babita wasn't as popular, especially growing up in her older sister's shadow.
Babita, however, gained the confidence to succeed when she defeated Geeta for a title.
"Usually she would beat me hands down. I think the day I beat Geeta was the day people started noticing me," Babita told wrestler-turned-actor Sangram Singh on his Instagram page.
"The next day it also appeared in the local newspaper. It's very funny at home. Everyone was behind Geeta, teasing her that she lost to her little sister. I think it gave me a lot of confidence that even I would win and probably succeed.
The achievements of Babita Phogat
From 2009 to 2014, Babita Phogat managed to win at least one major medal every year.
Babita shot to fame with a gold medal at the 2009 Commonwealth Wrestling Championships in Jalandhar, Punjab in the women's 51kg freestyle event.
She had to settle for silver at the Commonwealth Games the following year after losing to Nigeria's Ifeoma Nwoye 7-4 in the final. Babita, however, defended her Commonwealth Championship title in 2011.
Babita Phogat failed to secure a spot in the Indian wrestling team for the London 2012 Olympics. But at the same year's world championships in Strathcona County, Canada, she won a medal in bronze.
Babita Phogat stepped up to compete in the women's 55kg at the Asian Championships in 2013 and picked up a bronze medal. It was his first continental medal.
Gold at the 2014 Commonwealth Games
Babita Phogat's greatest achievement came in 2014 with a gold medal at the Commonwealth Games in Glasgow, Scotland. His biggest test, however, came before he even wrestled in his first fight.
"I remember, I hurt my knee a day before my fights. It was a ligament injury," said Babita Phogat recalling the unfolding of events in Glasgow.
When Babita saw the doctor, she was told it was a grade II tear, which meant she would have to withdraw from the Commonwealth Games to avoid further injury.
"But then I just couldn't bear the fact that I was there in Glasgow and couldn't compete. I was like, it's better to compete and lose than not to show up. Especially when you represent your nation.
Babita Phogat brushed aside the challenge of home favorite Kathryn Marsh in the quarter-finals with a 13-2 victory and edged out England's Louisa Porogovska with a 2-0 victory in the semis.
Facing the Canadian Brittanee Laverdure, bronze medalist at the world championships, for the gold medal, Babita Phogat won 9-2.
"I think it was that passion to play for the flag that drove me and today I have a gold medal to show for that," Babita Phogat said after the final.
Babita then made her Rio 2016 Olympics debut but crashed out in the first round after losing to Greek wrestler Maria Prevolaraki 5-1.
After picking up another silver medal at the Commonwealth Games in 2018, Babita married wrestler Vivek Suhag the following year and also joined politics.
Babita Phogat Medals